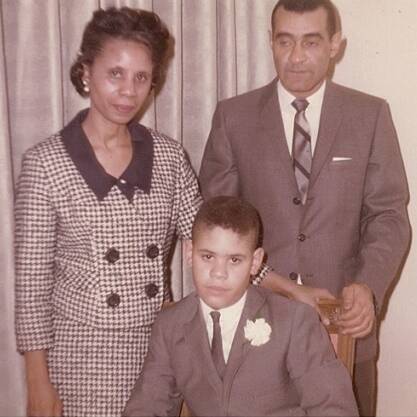 Keith Amparado '88
Alumnus Keith D. Amparado '88 has established two endowed funds at the college – the Arcadeo and Sadie J. Browne Amparado "Force for Change" Scholarship and the Shirley A. Chisholm Memorial Scholarship. Keith serves as a member of the Shirley A. Chisholm Center for Equity Studies advisory board and is a past president and Emeritus member of the Alumni Student Federation Board of Governors and an active volunteer. He chairs the steering committee of the Black Male Initiative, a student retention and support program based out of the college's Metropolitan New York location.
Impact
Arcadeo and Sadie J. Browne Amparado "Force for Change" Scholarship
Empire State College alumnus and devoted volunteer Keith Amparado '88 took the long way around to completing his Baccalaureate degree.
Keith graduated from high school at age 16 and promptly enrolled in Brooklyn College (CUNY). It was the late 1960's; the civil rights struggle and Vietnam War were dividing the country and school just didn't work for him. Lacking guidance and a college experience that was a good fit, he dropped out. Several years later, he decided to return to college – this time at SUNY Empire State College. And again, it just wasn't the right time for him. But as they say, the third time was the charm. He re-enrolled at Empire State College in 1985, and this time it stuck.
Having an extraordinary mentor and affirming experiences with the college helped him finally finish his degree in Business, Management and Economics. Since graduating in 1988, he has been a qualitative market researcher and technical writer, owned his own consulting business and now works at New York University as an Assistant Director in the Information Technology Services Division. He also volunteers as a member of Empire State College's Alumni/Student Federation Board, and is the Core Committee Chair of the Black Male Initiative program at the Metropolitan New York Center. But despite his accomplishments, he always felt called to do something else. "I was successful, but I never wanted to do any of this. The only thing I ever wanted to be was a social worker."
Keith's drive to service was instilled in him by his parents, Arcadeo and Sadie J. Browne Amparado. The Amparados are a multi-ethnic African-American family with roots spreading across multiple continents, and ancestry that includes, among others, African, Caribbean, European, Native American and Filipino. Arcadeo Amparado's father grew up in the Philippines before settling in Brooklyn Heights to work as a welder in the Brooklyn Navy Yard, while his mother, the child of former slaves from Virginia and the Carolinas, was born in Brooklyn. Sadie Browne's mother, a Jewish schoolteacher born on the island of Jamaica, married an African-American missionary from Darien, Georgia. The family traveled widely, fulfilling the missionary tradition of service. Keith grew up with a medley of religions – Jewish, Catholic, Black Presbyterian and Anglican – and a strong sense of inclusiveness and acceptance.
An only child, Keith was close to his parents. Sadly, Arcadeo Amparado died of lung cancer in 1996, when Sadie began exhibiting worsening symptoms of Alzheimer's disease. Sadie passed away in 2011 after a 20-year struggle with the disease. In order to care for her as she began to decline, Keith took training for Alzheimer's caregivers, and finally found his calling in social work when he created the Alzheimer's Caregivers Program at NYU in 2012. Keith continues to facilitate a weekly support group for fellow caregivers and provides guidance and information for any NYU staff and faculty members who ask. Through this service, he says "I found a way to do what I really should have been doing all along."
Social Work and Advocacy became an important part of Keith's daily life, and encouraged him to overcome his fears and follow his parents' legacy. "I could have made this total sea change in my career earlier," he says, "But I didn't have the courage. And some of that fear came from taking the wrong road when I first went to college."
Established in honor of his parents, the Arcadeo and Sadie J. Browne Amparado "Force for Change" Scholarship will support students who want to devote themselves to a life of service and impact the world in a social work or advocacy role. Keith's hope for the scholarship is that "the recipients will demonstrate leadership, and become a force for positive and meaningful change, in whatever area they decide to work."
The Arcadeo and Sadie J. Browne Amparado "Force for Change" Scholarship is open to students in any center or unit of the college who meet the Foundation's scholarship eligibility criteria, with a preference for students in the Metro Center. Both undergraduate and graduate students are eligible, with a preference for students who are committed to work in the areas of equality, including self-identified LGBTQ individuals. Recipients should be pursuing a degree in Community & Human Services, Human Development, Labor Studies, Social Theory Structure & Change, or any related field that will empower them to become a force for positive change in a meaningful way.
Shirley A. Chisholm Memorial Scholarship
The Shirley A. Chisholm Memorial Scholarship is created in honor of Shirley A. Chisholm, a Brooklyn native and Keith's downstairs neighbor and friend as a child, who in 1968 became the first African-American woman to win a seat in congress.
The scholarship is awarded to under-represented undergraduate or graduate female students residing in any region, with a preference for African American students. Chisholm Scholarship recipients must be pursuing studies that are complementary with programming offered at the Shirley A. Chisholm Center for Equity Studies, which examines and uncovers the roots, workings, and impacts of structural racism and systemic inequities in our communities today. Recipients must intend to pursue a career in Law, Public Affairs, Government, Public Service, or other areas that align with Shirley Chisholm's legacy; have a strong belief in Shirley Chisholm's vision; understand what she was trying to accomplish; and see this vision for themselves.