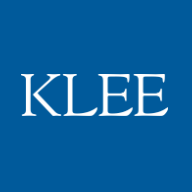 Conrad and Virginia Klee Foundation
Conrad and Virginia Klee Foundation Scholarship
Established by the Conrad and Virginia Klee Foundation, the scholarship is awarded to assist students living in the City of Binghamton or the greater Broome County area.
Nearly 50 years after Conrad Klee's death, those who knew him personally or by reputation remember two distinct sides of the man. Like many more famous philanthropists, he was shrewd in business, wise in investments, and generous to family and friends. Conrad owned a business selling Travelers Insurance. He reportedly enjoyed an unusual arrangement that enabled him to receive commissions on all transactions for Travelers throughout the region – a lucrative arrangement lasting some 60 years.
Several of Conrad's key investments seemed to meld his business sense with his loyalty to friends. A family member remembers that "Uncle Connie" was friends with Thomas J. Watson Sr., the father of IBM, and was also an early IBM investor. Likewise, friendship led him to back a new company called Azon. Both investments proved wise: earnings from these holdings helped fund the Klee Foundation after his death.
But Conrad Klee was also a warmly generous man, supporting friends and relatives through gifts. A nephew remembers that "my Uncle Conrad annually helped my struggling parents in purchasing school clothes for both my brother and myself."
Family members weren't the only ones to receive Klee gifts. A young man who had grown up in the Klees' church, Trinity Memorial, was trying to determine his future after coming out of the service. The Klees invited him to their house to talk about what he wanted to do. Learning that his wish was to become a lawyer, they offered to pay his way through Albany Law School. Some years later he would become corporate counsel for a major local business.
It wasn't just large gestures, however, that characterized Conrad's generosity. Robert (Bob) M. Best, retired chairman and CEO of Security Mutual Life Insurance Co., remembers as a young man going to his first Rotary meeting about 1950 and being seated with Conrad Klee and several other prominent Binghamton businessmen. Nervously attempting to make conversation, Bob mentioned how much his wife loved the Currier & Ives calendars Conrad's office sent out. When Bob returned to his office after lunch, Conrad appeared at the door with a stack of Currier & Ives calendars for Bob's wife.
In his will Conrad continued the generosity of his lifetime. He provided for three longtime employees to continue to work as long as they were able, and he provided bequests for each of themas well. More than 70 separate bequests – ranging from $1,000 to $5,000 – benefited family and friends outright. An additional 21 lifetime trusts, each ranging from 2 to 7 percent of his estate, provided for family and friends. Upon the death of each beneficiary, the remaining assets were to transfer to the Klee Foundation. Several of these trusts remain open.
Conrad also continued his lifelong giving to organizations, making bequests ranging from $1,000 to $25,000 to nearly 20 of them.
Born September 7, 1881, in Binghamton, Conrad was the fifth of eight children born to his German father, also named Conrad Klee, and his mother, Margaret Culli, from Tioga County. After graduating from Binghamton High School, young Conrad joined First National Bank in Binghamton in 1900, where his first position was that of "runner." Later he was a note teller, cashier, and manager, before gravitating to the insurance business. By 1920, he was Travelers' general agent in Binghamton. From the street, passersby could see his third floor office windows in the Binghamton Savings Bank building — which clearly announced Conrad Klee, Insurance/Travelers Insurance Company.
Conrad married Virginia DeLavan, of Guilford, NY, in 1907. One Binghamton resident who knew Virginia described her as "a wife of her time," indicating that her primary role was to support her husband. The couple commanded respect. Conrad and Virginia, as was the tradition in those days, sat in "their" pew when attending Trinity Church. Sunday school children were instructed to behave when the Klees were in church.
Conrad and Virginia never had children of their own, like several other couples whose wealth would eventually fund some of the Binghamton area's largest private foundations. (History of the Klee family, from www.kleefoundation.org)