Adirondack Trust Company
The Adirondack Trust Company Scholarship
With gratitude to Charles Wait, Jr. and The Adirondack Trust Company.
The Adirondack Trust Company Scholarship was established by the Adirondack Trust Bank to provide scholarships for students residing in New York's Capital District.
Alfred Z. Solomon Charitable Trust
Alfred Z. Solomon Scholarship
With gratitude to Victoria Garland and Harry Snyder, trustees of the Alfred Z. Solomon Charitable Trust.
The Alfred Z. Solomon Scholarship assists students who are community college graduates residing in Saratoga County with demonstrated financial need. Alfred Solomon came from a working immigrant family. His grandfather sold whiskey and his father sold lighting fixtures. Mr. Solomon entered the fashion world by importing trimmings for hat makers. Eventually, he seized the fashion industry through the sale of ladies hats. Through hard work, ingenuity, an entrepreneurial spirit and a fine mind, Mr. Solomon turned himself into a success. A Saratoga institution, he passed away at the age of 104.
Althea Luehrsen
Althea E. Luehrsen Scholarship
Established through the generosity of alumna Althea Luehrsen '02,'10. The scholarship is awarded to female students living in Erie County NY. A lifelong resident of Western New York, Ms. Luehrsen believes that continuing to give back to her community is key to the success of the region. She holds two degrees from SUNY Empire State College – a Bachelors of Professional Studies in Business Management and Economics, and a Master of Arts in Business and Policy Studies. She also serves as a member of the college's Alumni/Student Federation Board of Governors.
Anibal Torres and Isabelle Wilczewski
Torres-Wilczewski Scholarship
Established by former faculty member Dr. Anibal Torres and his wife Isabelle Wilczewski, the Torres-Wilczewski Scholarship is awarded to students in Central New York with a preference given to students of ethnic or racial minorities or to students of Polish descent. Dr. Torres currently works at Indiana University.
Anonymous Donor
Western New York Part-Time Student Success
The fund has been established by an anonymous donor to supplement funding for students residing in Western New York who find the demands of their job along with full-time study unworkable, to enable them to move to part-time study. It may also be used to assist current part-time students to successfully complete their studies. Recipients must be matriculated undergraduates residing in Cattaraugus, Niagara or Erie County who are employed and have applied for all available financial aid; additional consideration will be given to students who have children in the home.
Anonymous Donor
Latino Heritage Scholarship
The Latino Heritage Scholarship was established by an anonymous donor to support students in Metropolitan New York City who trace their Hispanic/Latino heritage to Puerto Rico, the Dominican Republic, Cuba, Mexico, Central American or South America (including Brazil). A preference is given to recipients who demonstrate a commitment to advancing social justice and making a difference in society.
Black Male Initiative
Black Male Initiative Scholarship
In 2009, the Black Male Initiative was formed at Empire State College's Metropolitan Center, based in New York City, to address a major concern – reduced retention rates among black male students. Ensuring students re-enroll from year to year is an issue for all student populations, but has become a crisis for black male students.
The Black Male Initiative evolved from a mentoring program into an energetic student and alumni group with activities as diverse as peer coaching, panel discussions, career counseling and support groups, student and alumni networking events, admissions outreach and social responsibility initiatives. The BMI taps the strength of alumni and the college's expertise in mentoring to better connect black male students with faculty and instructors, student services and, most importantly, with each other.
In early 2013, the leaders of the BMI casually discussed the idea of "someday" forming a scholarship to encourage and support academically promising black men. This dedicated group asked themselves what they could do to make this idea a reality. Very quickly, they realized that forming a scholarship was an achievable goal, and that "someday" could be now. These leaders – BMI faculty advisor David A. Fullard, alumni peer learning coach Jay Marshall '06 '08, chairman of the BMI Steering Committee Keith Amparado '88, faculty mentor Robert Carey, and BMI president Lawrence Johnson – created the Black Male Initiative Scholarship.
The founding members participated in the fundraising initiative for different reasons. To get the ball rolling, David Fullard was the first to contribute to the fund. Fullard reflected on the black men he had repeatedly encountered through his work with the New York City Department of Corrections, "For many of the inmates, education had been their last concern; but many of these young men were intelligent and academically capable, bordering on profoundly talented. It was clear to me that they would do well in school and likely go on to do great things, but the true crime was in their financial status and their lack of role models to help build their confidence."
Bob Carey immediately jumped in with his support, along with Jay Marshall. "As an alumni peer learning coach, I have the privilege of speaking with BMI members, and I often hear students comment on how financial burdens are a determining factor in being able to continue in school," Marshall said. Keith Amparado noted, "I know I stand on the shoulders of my ancestors, and I welcome this opportunity to champion my brothers and help underwrite their successes with my contribution."
Marshall sums up a sentiment shared by the founders in their aspiration for the scholarship, "I hope this scholarship will inspire our men with a spirit of benevolence, that they will in turn give back to our community something to help make a difference in another's life."
Once the Black Male Initiative Scholarship was announced, the response from alumni and friends was astounding. The Black Male Initiative Scholarship is available to black male undergraduate students who are actively participating in the initiative at the Metropolitan Center, especially those students who demonstrate a commitment to improving their communities. Through the passion, devotion and enthusiasm of the initiative's leaders, the Black Male Initiative Scholarship has indeed become a reality.
"Higher education has too long been 'A Dream Deferred' for black men in this country and finances must never be a barrier. The Black Male Initiative Scholarship is a unique way to level the playing field."
– Keith Amparado '88
Catherine Szenczy
Szenczy Impact Scholarship
The Szenczy Impact Scholarship was established by alumna Catherine Szenczy '87. After a successful 40-year career in Healthcare Information Technology, Catherine is pursuing her passion for helping women build a better life for themselves and their family. The Szenczy Impact Scholarship is available to students in any program at the college, with preference given to single mothers first and then other single parents. Special consideration is given to students from a foster family environment.
Claudia Shacter-deChabert
Rosa Parks Scholarship
The Rosa Parks Scholarship was established by alumna Claudia Shacter-deChabert to provide funds for a student in the Labor Graduate Program who shares the activist spirit of Ms. Rosa Parks. The scholarship is intended to help further the education of active trade unionists.
Crystal Scriber (in memory of)
Crystal Scriber Scholarship
With gratitude to Reed Coughlan, on behalf of Crystal's friends and colleagues.
Professor Scriber was a mentor and full professor at the Utica Unit of Empire State College. Her main areas of educational interest were in the fine arts and literature. She worked professionally in photography, painting and mixed media and her work had been shown nationwide. Crystal passed away on February 28, 2006 and this scholarship was established in memory of her and her tremendous work with the students of Empire State College.
David and Joy Mazzetti
Mazzetti Family Scholarship
The Mazzetti Family Scholarship was established in 2015 through the generosity of David '10 and Joy Mazzetti. The scholarship is available to undergraduate or graduate students with demonstrated financial need. Preference is given to students who have a family member that has graduated from the college.
The Mazzetti family has a long history of involvement with SUNY Empire State College: David graduated in 2010; Dave's father John Mazzetti graduated in 1993; Joy's father, Russell Harris, was among the earliest graduates in 1976; and David's niece, Jennifer Ashton, graduated in 2011.
David Theobald and Stat Staff Professionals
Stat Staff Professionals Nursing Scholarship
The Stat Staff Professionals Scholarship was established in 2013 to support students pursuing a career in nursing.
Stat Staff Professionals is a nurse-owned and operated health care staffing organization specializing in providing registered nurse and allied health care professional supplemental staffing services to hospitals and health care organizations across New York State. Stat Staff has a formal partnership with SUNY Empire State College, offering their employees tuition discounts, scholarships, and a textbook share program.
Stat Staff has kept its commitment to the field of nursing and nurses themselves since its founding day, along with the belief that education and training are the tools for safer, healthier patients. Stat Staff is committed to excellence in nursing and the pursuit of education for all nursing professionals. The company is active in the local community with participation in many charitable causes.
Founded in 2000 by CEO David Theobald, RN, BSN, Stat Staff had inspired beginnings. After suffering from a near-fatal motorcycle accident, Theobald was impressed with the nurses that cared for him, ones that ultimately helped save his life. Inspired to take action, Theobald enrolled in nursing school himself, and Stat Staff was born soon after.
David Theobald received his Bachelor of Science in Nursing from SUNY Empire State College in 2013 and promptly enrolled among the first group of students in the college's brand-new Masters in Nursing program. As both a nurse and an alumnus, Theobald understands first-hand the importance of education for the nurse, as well as the quality education provided by Empire State College.
David Yamada
David Yamada '99 Labor Relations Scholarship
The David Yamada Labor Relations Scholarship was established for a deserving student with financial need in the graduate Labor and Policy Studies Program. David C. Yamada is a Professor of Law and founding Director of the New Workplace Institute at Suffolk University Law School in Boston. He received his Master's degree from SUNY Empire State College in 1999. Professor Yamada is an internationally recognized authority on the legal and organizational implications of workplace bullying, and on the employment law implications of internships.
Donald Milton
Robert Milton Memorial Scholarship
The scholarship was created to honor the memory of Bob Milton, who passed away suddenly in 2008. The Bob Milton Scholarship will allow Bob's spirit to live on in perpetuity as generations of worthy Empire State College students are provided financial assistance to help fund their education. It was established by Bob's brother Donald Milton, along with his friends and colleagues.
Robert P. Milton was an integral part of Empire state College for 24 years, the last three as vice president for enrollment management. As a vice president, Milton oversaw all enrollment management functions for the college, developing and implementing plans that strengthened recruitment, admissions, retention and graduation rates. He also served as a resource and coordinator for all college employees directly involved in recruitment, admissions and retention. He joined the college as an associate professor of community and human services in 1984, and served as dean of the college's Genesee Valley Center in Rochester from 1993 until 2004.
From 1980 to 1984, he was a professor of social work and, for two years, director of the Social Work Program at Skidmore College in Saratoga Springs. In addition, Milton held academic positions at the University of Pittsburgh and Syracuse University. Milton began his career in social work in the early 1970s holding positions from supervisor of child care workers for Monroe County Children's Center in Rochester, to coordinator of youth projects for the Rochester-Monroe County Youth Bureau, among others.
He earned a bachelor's degree from St. John Fisher College, an M.S.W. from Syracuse University, and a Ph.D. in social policy analysis and research from the University of Pittsburgh.
Doris Goldberg
Joseph Goldberg Scholarship
The Joseph Goldberg Memorial Scholarship is intended to assist students in the arts, helping professions, social theory or some combination of those areas who have made or show the potential to make significant, socially useful contributions. The scholarship was established by Joseph's widow Mrs. Doris Goldberg, and his daughter, Empire State College faculty mentor Ruth Goldberg.
Dr. David A. Fullard
Fullard/Mills Scholarship for African-American Women
The Fullard/Mills Scholarship for African-American Women, established in 2014, is awarded to female, African-American (including students who identify as black, African-American and Afro-Caribbean), undergraduate students enrolled at the Metropolitan Center who meet the Empire State College Foundation's scholarship eligibility criteria. Preference is given to students who are raising children while working and pursuing an education.
Education is the most powerful weapon which you can use to change the world.
– Nelson Mandela
Dr. David A. Fullard
David A. Fullard Opportunity Scholarship
In elementary and high schools, I never fully understood the sacrifices my mother, aunt and grandmother made to provide the emotional and financial support necessary for me to have a Catholic school education. Based on the alternative school choices available at the time, there is no doubt in my mind that I would not otherwise have had the opportunity to experience a quality education.
During my undergraduate and postgraduate college years, I was able to pay my own tuition through employment, grants and loans but I never lost sight of the fact that financial restraints during my youth may have prevented my careers in law enforcement, education and the arts from becoming a reality.
In honor of the incredible women in my life who pooled their resources, ingenuity and will to make a better life for me, I created The David A. Fullard Opportunity Scholarship as a way to pay it forward to those in need. This scholarship is available to male, African-American undergraduate students with need enrolled through the college's Metropolitan Center. Preference is given to students who demonstrate a commitment to use their education to benefit their communities.
It is my hope that the recipient of this scholarship "aspires to inspire" in the footsteps of honored African-Americans such as Colin Luther Powell, former secretary of state and retired four-star U.S. Army general; Jesse Ernest Wilkins Jr., mathematician and nuclear scientist; James E. Bowman, M.D., University of Chicago Pritzker School of Medicine professor of pathology and genetics; Charles F. Bolden Jr., NASA administrator; Robert L. Johnson, BET founder; Neil deGrasse Tyson, American astrophysicist and Hayden Planetarium director; Benjamin Solomon Carson Sr., M.D., American neurosurgeon and Johns Hopkins Hospital director of pediatric neurosurgery; Alvin F. Poussaint, Harvard Medical School psychiatry professor; Jerome A. Holmes, Tenth Circuit U.S. Court of Appeals judge; and Barack Obama, 44th U.S. president.
– David A. Fullard, Ph.D.
"Education is our passport to the future, for tomorrow belongs to the people who prepare for it today."
– Malcolm X
Dr. John M. Beckem II
Dr. John M. Beckem II Scholarship
Dr. John M. Beckem II is an Empire State College faculty member in Finance and Management Studies. Recipients of the Beckem Scholarship should demonstrate an interest in technology, and how current or future technologies may be used to enhance academic learning and/or stimulate student engagement in the online classroom.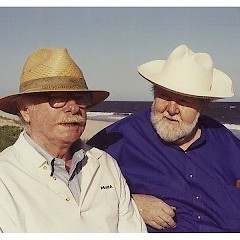 Dr. Kesiah Scully and Dr. David Seres
The Coxen-Ahr Memorial Scholarship
The Coxen-Ahr Memorial Scholarship has been created to support deserving undergraduate students enrolled in the Business, Management and Economics program at SUNY Empire State College's Metropolitan New York Center. The scholarship will be awarded to students who meet the Empire State College Foundation's scholarship eligibility criteria, on the basis of financial need and academic promise, with a preference for students who have ongoing involvement in meaningful community service.
The scholarship honors long-time partners Fred H. Coxen (1929-2000) and Richard Ahr (1929-2012), both of whom were active and highly regarded in the New York City arts community.
Fred Coxen was born in Topeka, Kansas, and he worked for many years in Exhibition Productions at the Museum of Modern Art (MOMA). He was a graduate of the Cranbook Academy of Art in Bloomfield Hills, Michigan, specializing in acrylic painting. Fred was a veteran of the Korean War.
In addition to his skills as a painter, Fred was known for his work designing beaded jewelry. He collected beads from around the world to make necklaces and other jewelry, and often gifted these treasured items to friends and other loved ones. Friends from MOMA and the city arts community described Fred as a "beloved friend with a heart of gold" who touched many lives.
Richard Ahr (pronounced "R") was a native of Buffalo, New York, who moved to New York City in 1958. He also earned a Master's in Fine Arts from the Cranbrook Academy and served in the Air Force in the Korean War. Richard worked primarily in watercolors and acrylics, favoring scenes in New York City and Florida. His subjects included impressionist treatments of the beach, musical performances, dance, horse racing and city street life. He exhibited at the Sommerhill Gallery in Durham, NC, as well as in many New York City galleries.
Richard was employed by the Department of Painting and Sculpture at MOMA and was instrumental in maintaining MOMA's massive catalog of artistic works. After he retired, he continued to paint in his studio in the East Village. His works have been exhibited at MOMA and are held in numerous private art collections.
The Coxen-Ahr Memorial Scholarship was created by their dear friends, Dr. Kesiah Scully and Dr. David Seres. Kesiah Scully is a mentor at the Metropolitan Center of SUNY Empire State College. David Seres practices medicine at New York-Presbyterian Hospital and is on the faculty at Columbia University Medical Center.
Dr. Louis Levine
Louis Levine Scholarship
This scholarship was established in honor of Dr. Louis Levine, President of the New York College of Podiatric Medicine. It is intended to support students at the Harry Van Arsdale School of Labor with financial need who are active members of a labor union.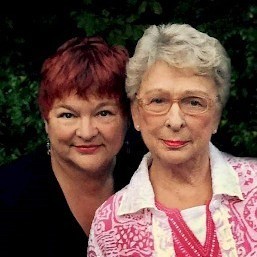 Dr. Nancy Kymn Harvin Rutigliano
Nancy C. Harvin "Bless Your Heart" Scholarship
The Nancy C. Harvin "Bless Your Heart" Scholarship was created in 2015 by Dr. Nancy Kymn Harvin Rutigliano, a professor at SUNY Empire State College in the Center for Distance Learning. The scholarship honors her mother, Nancy Collier Harvin, who is known for her deep wisdom, sage advice, and Southern hospitality.
Mrs. Harvin is a loving mother of five who devotes her life to her children, grandchildren, friends and the judges of Delaware County, Pennsylvania, whom she has served for decades.
Nancy loves people. Whether you are the boy who cuts her grass, a neighbor of 40 years, the Chief Judge or someone who simply stops by her desk seeking information, Nancy treats you like royalty. While people remember her Southern accent, her ready smile, her "Bless your heart" expression of caring, they most remember how she makes them feel: special.
In addition, Nancy is a trailblazer. She was the first woman to be a member of the borough council in Brookhaven, Pennsylvania where she has resided for over 40 years. She courageously voted her conscience time and time again, often when it was not popular to do so. Her passion for politics and public service ignited the interest of her oldest daughter and namesake, Nancy Kymn, who studied political science and journalism as an undergrad and held leadership positions in state government and corporate America before joined the faculty of SUNY Empire State College in 2010. In addition to mentoring students and teaching leadership, ethics, and organizational behavior, Dr. Rutigliano advocates for criminal justice reform across our country.
"My mother is my hero. She taught me to love wholeheartedly and fight for those most people ignore or scorn. By her example, she taught me to work hard, look for the best in others, and give to the less fortunate," said Kymn. "Although she never had the opportunity to go to college, she is one of the smartest people I know. She makes me want to be the best I can be every single day."
This scholarship is designed to support students in need who reflect Nancy's life of service and values and want to "bless hearts" as she has done throughout her life. Preference is given to students who are beginning or returning to college after raising a family or caring for those in need; have a passion for serving others and our country; seek to be "trailblazers" and courageous leaders who fight for the less fortunate, and enroll through the Center for Distance Learning where her daughter is a mentor.
Dr. Nan M. DiBello
Dr. Nan M. DiBello is an Empire State College faculty member in the Public Affairs area of study, and served as the Dean of the Niagara Frontier region from 2003 to 2016.
Dr. Patricia Brozinsky
The Drs. James Gibson and Patricia Brozinsky Endowed Graduate Scholarship
"And remember, the truth that once was spoken, to love another person is to see the face of God."
~ Les Miserables
The Drs. James Aloysius Gibson and Patricia Brozinsky Endowed Scholarship was created to honor and memorialize the loving relationship between Dr. James Aloysius Gibson and Dr. Patricia Brozinsky. Jim worked as both a private practice psychotherapist and as a professor in the master's program at SUNY Stony Brook teaching Human Behavior and Social Environment.
Jim celebrated people. Helping people, listening to them, making them laugh and empowering them with their own personal strength was among his great joys. Jim simply loved people. He took a sincere interest in everyone with whom he interacted and had a way of making those in his company immediately at ease. It did not matter whether he was old friends with them, or had only just met them. He had the ability to inspire and bring out others' "real" self, and always with a playful charisma that assured those around him that he was sincere. Jim believed that all people are precious. He provided help to all, and joy and loving laughter followed him.
Jim's abounding spirit rose above great sadness and personal pain from early loss. He never stopped celebrating life and encouraged and inspired others to do the same. Through their deeply loving relationship, Jim enlightened Pat to a richness of life which included compassion, mercy, generosity, playfulness, intelligence, wit, charity and humor. It is through this scholarship that Pat wishes to honor and memorialize Jim and continue his glorious legacy of good spirit and concern for others. To that end, this scholarship will support students who aspire to influence their communities through positive, thoughtful, caring and focused human connections.
The Drs. James Aloysius Gibson and Patricia Brozinsky Endowed Scholarship will be awarded annually to graduate students enrolled in the Social Policy program who demonstrate academic excellence and have financial need. Preference will be given to students currently working in, or aspiring to establish a career in higher education.
Dunkirk-Fredonia AAUW
Dunkirk-Fredonia American Association of University Women (AAUW) Scholarship
With gratitude to Joyce Haines, of the former Dunkirk-Fredonia AAUW branch.
Originally established in 1992 by the Dunkirk-Fredonia branch of the American Association of University Women, which was disbanded in 2016. The scholarship is awarded to female students residing in the Chautauqua County area.
Dyson Foundation
Dyson Foundation Scholarship in Nursing
With gratitude to Robert Dyson, Executive Director of the Dyson Foundation.
The Dyson Foundation is committed to the Mid-Hudson Valley and to improving and enhancing the quality of life in the region for all of its residents, especially those most vulnerable or economically disadvantaged. The Dyson Foundation defines the Mid-Hudson region as including Columbia, Greene, Orange, Putnam, and Ulster Counties, with a particular emphasis on Dutchess County. Recipients of the scholarship must live and work within this region, and intend to remain living and working in the region after graduation.
http://www.dysonfoundation.org/
Edwin and Ruth Decker
Edwin and Ruth Decker '74 Scholarship
"When it came time to leave Long Island, we wanted to leave something behind; something that would make a difference, something permanent, and something that would reflect Ruth's affection for and gratitude to Empire State College. The scholarship fund did all of that and we have been deeply touched by the way it has made a difference in the lives of past recipients."
- Edwin and Ruth Decker
The Edwin and Ruth Decker Scholarship was established through the generosity of alumna Ruth Decker and her husband Edwin. It was created in support of female students studying through SUNY Empire State College's Long Island Center.
Ruth earned her bachelor's degree in history with Empire State College's Long Island Center in 1974. She then worked for the college as a counselor, advising prospective students and guiding them through the enrollment process. Since then, she has been an active and loyal alumna, earning awards such as the Alumni Student Association's Distinguished Alumni Service Award. This honor was bestowed upon Ruth in recognition of her dedication, enthusiasm and support of alumni and student programs.
In addition to her commitment to Empire State College, Ruth is engaged in her local community and is often leading projects that assist others. She and her husband, Ed, have been active in Habitat for Humanity and breast cancer research funding, among other things.
Federation Board Governors
Jeanne Brockmann Scholarship
With gratitude to the Alumni/Student Federation Board of Governors.
Dr. Jeanne Brockmann served SUNY Empire State College since its inception. She was a devoted colleague and friend to administrators, faculty, students and alumni. When a group of alumni wanted to honor Jeanne, they could think of no better way than to establish a scholarship in her memory.
Federation Board of Governors
Marjorie Meinhardt '77 Scholarship
The Meinhardt Scholarship was established by the Alumni/Student Federation to honor Marjorie Meinhardt for her assistance to students and alumni when she served as Director of Alumni Affairs at Empire State College. Ms. Meinhardt was also an alumna of the college.
Federation Board of Governors
Alumni/Student Federation Scholarship
The Alumni/Student Federation Scholarship was established by the Alumni/Student Federation to assist current students as they pursue their studies at Empire State College.
Friends, Family, Colleagues and Former Students of Jane Shipton
Jane Shipton Scholarship
With gratitude to Ingrid McCauley, a dear friend of Jane Shipton.
The Jane Shipton Endowed Memorial Scholarship was created to honor the life and work of Jane Shipton, a beloved mentor and esteemed faculty member at the Long Island Center of Empire State College and one of the earliest members of the college's faculty.
During Jane's tenure as a faculty mentor at the Long Island Center, she advised many students in the areas of human services, adult development, counseling and psychology. Her skill in assisting students in educational planning led her to write the first Empire State College planning guide for degree programs and portfolio development. In 1995, Jane and two colleagues published a text book for college entry courses. Jane inspired her colleagues and students with her knowledge of the academic world, her interpersonal skills, her good judgment, and her experience with team building and collaboration.
After Jane's death in 1998, a small group of her closest friends, family, colleagues and former students established this scholarship to keep Jane's memory alive and to support students studying in the area of human services or closely related fields. The late Betsy Steltenpohl, retired mentor and friend, coordinated the group of contributors whose generosity made the scholarship's goal of $100,000 become a reality in 2008.
Endowing the scholarship at this level allows Empire State College to award scholarships to multiple students each year. Students are selected on the basis of academic promise and demonstrated success, community and school involvement, and financial need. Moreover, students who receive this scholarship are selected because they reflect the ideals and commitment to others that Jane herself exhibited.