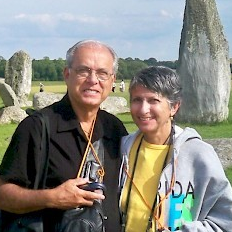 Margaret Ortiz '86, '93 and the late Oscar Ortiz
Ortiz Family Scholarship
"A Family Affair"
For Margaret Ortiz and her late husband Oscar, their family ties to Empire State College run deep. Margaret received Associates and Bachelor's degrees from the college. Daughter Christine Ortiz Cortes is an Adjunct instructor and received her Master of Arts in Teaching in 2008, and Christine's husband Jorge Cortes is an alumnus in the class of 2014 with his MBA, all at Empire State College. In addition, their son Dr. Phillip Ortiz was a mentor at the Center for Distance Learning with a long record of service to the college.
Margaret and Oscar placed tremendous value on higher learning, describing themselves as "pro-education." So when Phillip suggested to his parents that they start an endowed scholarship for students in the Education program, they immediately embraced the idea. The Ortiz Family Scholarship is awarded to students in the Master of Arts in Teaching program. The scholarship aims to promote diversity among K-12 educators, and is awarded to students from traditionally underserved backgrounds.
Margaret's undergraduate degrees opened the door to fulfilling her lifelong dream of working with children, and she was determined to help others in the same pursuit. Prior to establishing the scholarship, Margaret and Oscar hadn't ever considered making such a significant foray into philanthropy. Highlighting their desire to "pay it forward," the scholarship turned out to be the perfect fit, just as Empire State College had been the perfect fit for them. Christine walked away from a successful career on Wall Street to follow her passion to teach. Jorge, who works full-time while completing his degree, found that Empire State College's flexible MBA program was the best option for him. For the Ortiz family, Margaret says "The opportunity simply wasn't there without a non-traditional classroom."
The Ortiz Scholarship is awarded to one student per year, but the fund continues to grow. "We have asked family members to forego giving us material gifts for birthdays and holidays, and instead give to the endowment," Margaret said. "We take great satisfaction in knowing that our family agrees with what we are doing."
Recipients of the Ortiz Scholarship are dedicated to the field of education, and each year they write eloquent notes of gratitude. Margaret and Oscar cherish these sentiments, and have kept all of the letters they have received. "We feel strongly about supporting teachers. The recipients have been more than wonderful."
One such recipient is Carmen "Heidi" Rivera Robles, a triple graduate of the college with Associates, Bachelor's and Master's degrees. A teacher in the Buffalo City School District, she is extremely grateful for the Ortizes' assistance. "The scholarship helped me to focus on my education rather than worry about securing funding to complete my studies," she said. "I not only received an education, I was given the world… a world to discover and experience in a new light, ready to take on the challenges placed before me."
From their modest investment in a scholarship, the Ortiz family is reaping tremendous personal rewards and continuing to pay it forward.